3 gallon / 5 gallon (10 to 20 liter ) water production line solution
Success in water beverage production requires focus on maximum output and efficiency, with commitment to hygiene, food safety, cost optimization and sustainability. Whether you're producing water, our unmatched expertise helps you achieve more with extensive technical knowledge and packaging capabilities.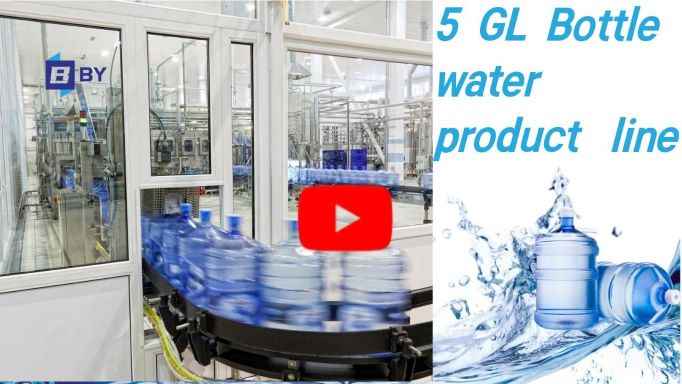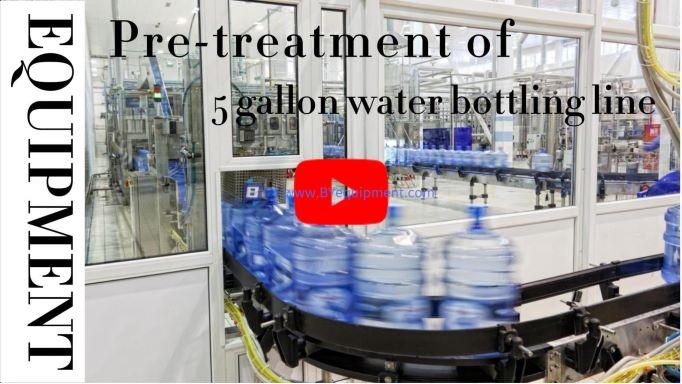 One partner for all your needs
A complete 3 or 5 gallon (10 to 20 liters) water line solution from BY leverages our knowledge of the entire water bottling process, from minimizing waste of resources to helping you achieve your sustainability targets, to ensuring that your bottle is durable and attractive to consumers. With everything centered around one supplier, you get wide-ranging expertise, line equipment and ongoing services. This ensures high quality and efficiency from packaging to equipment, fast ramp-up and beyond.
BY designs and implements complete lines for the 5 gallon water, which cover each individual production process step – starting from product and container treatment and washing, filling and packaging. BY is committed to providing unique high value solutions to client partners that provide them a strategic advantage. BY can provide both standard product offerings as well as custom designed equipment to answer clients' needs and can meet any technical and production requirements, ensuring the efficiency of the system and optimizing the available space.
No matter which task you have approached us with: you call the tune and we will provide solutions customized to your needs.

Product line machines


Decapper (Cap Remover) and Delabeler
An automatic or semi-automatic machine such as BY-BG-series, BY-DLDC-series, BY-DL- series is a special part of a production line for 5 gallons bottles. Particularly suitable for drawing caps before bottles are reclaimed, which reduces both labor costs and pollution. It's made of stainless steel, is corrosion-resistant, and is easy to maintain. Top brands such as Schneider Electric, Siemens, and Mitsubishi were used for the main electrical parts. The pneumatic system was controlled by imported AIRTAC components. The structure is good, stable, and reliable. It is capable of performing three functions: automatic, electrical, and pneumatic.
Automatic leakage test machine suitable for testing the leaking of larger water bottles, such as 3 and 5 gallon ones. Systems can be set up in a production line. The frame is stainless steel. Custom length conveyors, stand-alone units, and higher speed units are available. Models range from 6-head to 12-head with 400 to 2000 bottles per hour capacity) design for detecting fine cracks and holes as small as .010".
Typically, an automatic or semi-automatic internal washing machine is designed to pre-wash reusable 5 gallon bottles by detergent and water cleaning for removing dirt, dust, oils, and other things from inside the bottles before the main machine fills the bottle with water. Our company can provide different online or independent machines and can provide a variety of washing technologies including brushing systems, hot water rinsing, high-pressure washing, and particle friction, depending on the client's needs. Practical products utilizing the latest assembly line technology are the latest products that have been developed and manufactured.
The operation procedure is the same for 3 gallon and 5 gallon automatic bottle washers, which are controlled by PLC automatics with little manpower and low working intensity. Well-known international brands manufacture elaborate electrical components in order to make the performance of the device more stable.
Outer Bottle Brusher
bottles under the conveying system enter into an external washing machine such as
BY-XY-2000
and are tightly close to the main circle soft brush. it is geared by a high-grade Nylon brushing system for washing the bottle bottom, bottle body, bottle shoulder part, controlled by PLC control system.
Main circle brush travel direction reverse to bottle direction. The washing pump goes on spraying water and cleaning lotion to each brush and collecting water for circle return usage. The spray water and washing lotion of the Showing room come from the same pump, also for return and circle usage.
BY-XGF
type bottle production line is the core parts for the 3,5 gallons bottled drinks water production line. It's the ideal type of equipment for mineral water, steamed water, and purified water production. The whole machine is made of a good quantity of stainless steel, can bear canker, and easy cleanout. The main electrical parts adopted Mitsubishi, OMRON brand parts. Air control system adopted imported AIRTAC brand parts. It has good structure and works stable and reliable, sensitive and exactness, whole work is automatic with machinery, electrical and air control three functions in one body machine.
Labeling and Heat Shrink Machine
BY provide an Automatic Shrink Sleeve Labeling Machine such as
BY-BT-series
, for labeling and
Steam Shrink Tunnel
to heat shrink, and conform plastic label sleeves without creating bubble marks. The temperature of the heat shrink machine can adjust continually, suit many kinds of shrink film and different speeds, with hyperpyrexia materials, good heat preservation, and low power.
By providing all the equipment you need to manage your warehouses, such as
palletizers
,
truck loading conveyors
, and
bagging machine
s.
BY also provides all the equipment including accessory machines necessary to ensure the smooth and safe operation of the product line.
Transportation:
Export standard packaging: wooden case
Port: Tianjin port or other assigned port