BY-

XGF-600 Automatic 5 gallon bottle Washing Filling And Capping Machine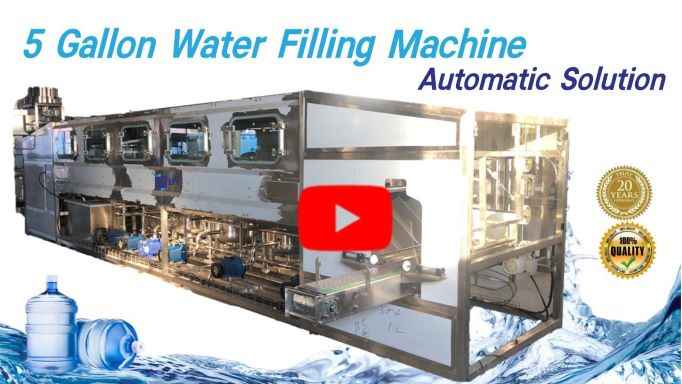 The BY-XGF-600 Automatic filling machine is designed by BY to provide reliable and compact solution for 3 or 5 gallons drinking water production.
For the main electrical components we use high quality well-known international brand such as Mitsubishi and OMRON, and AirTAC products from Taiwan are used for the pneumatic system. The machine designed compact with small foot print with high efficiency, stability, reliable and high level of automation makes it suitable solution for plant with limited space. Only one operator needed, is 1 in all automatic filling equipment.
This barrel water drink filling machine is the fully automatic barreled water producing equipment combined with machine, electronic and pneumatic components.
1. It is specially used for filling 1 gallon to 5 gallon bottled water.
2. It is a good machine line for the all shapes of bottles.
3. The machine is designed for bottles such as PVC, PE, PET etc. It can be used for different shapes of bottles.
4. The machine line with stainless steel rinse nozzles, pressure filling valve, screw capper, hot steam film shrinkage machine top quality line.
5. Filling time is controlled by the PLC.
6. The machine adopts high quality stainless steel frame ( SS304).
7. The machine design appurtenance is beautiful, easy operation, maintenance and working stable.
It integrates bottle washing, filling and capping into one unit ,In order to achieve the purpose of washing and sterilizing. The capping machine can cap barrel automatically ,this line equips with water spraying device in order to ensure those caps sterilizer and clean .it also can automatically carry out barrel ,washing, sterilizing ,filling ,capping ,counting and products discharging ,with complete function ,modern design and high degree of automation ,it is a new kind of barreled water auto-production line ,which integrates mechanism ,electricity and pneumatics technologies together.
The BY-XGF-600 equipped with PRESS-ON CAPPER is a linear machine used for caps applied on the bottle by pressure. It includes:
· Cap hopper
· Canal chute
· Placing system of cap on the neck
· Device to snap the cap on the neck
Specific systems to sterilize the caps in order to avoid the contact of contaminating agents present on the cap with the bottle neck
The bottle takes the cap directly from the canal chute. The snapping of the cap on the bottle neck is carried out through the pressure developed by a belt conveyor, provided with a system to adjust the force in order not to stress the bottle.

Main technical data:
Type No.: BY-XGF-600
Filling capacity: 600BPH
Barrel: 5 Gallons
Bucket size: ∮270*490
Voltage: 380~440Vac 50Hz
Power: 15 KW,
Air Consumption: 0.6-0.9 m/min
Air pressure: 0.5 ~ 0.8 Mp
Water consumption: 13T/h
Dimensions (L*W*H): 7800*1500*1950 mm
Weight: 2000 Kg
Transportation:
Export standard packaging: wooden case
Port: Tianjin port or other assigned port