Semi-automatic, 19 liter / 18.9 L (5 gallon) water-bottle Brusher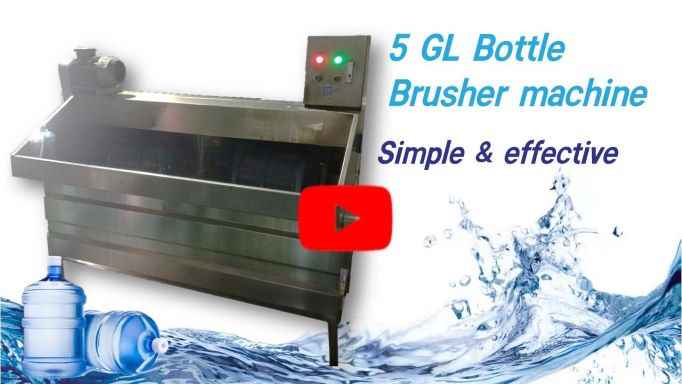 BY-SBW-2 is a Semi-automatic 19 liter / 5 gallon water-bottle washer/ Brusher. Sime Automatic bottle exterior brush washing machine is designed for pre-wash the reusable 5 gallon bottle by detergent washing and clean water washing for cleaning the dust, oil things outside of the bottle to improve the washing filling capping system of the main machine, it is geared by high grade Nylon brushing system for washing the bottle bottom, bottle body, bottle shoulder part. Depending on the version, the unit is suitable for washing 19 liter / 18.9 L (5 gallon), 11.35 L (3 gallon) PRB or PET water bottles. Upon request, the device may also be suitable for other types and capacities, such as 5, 6, 10 l bottles. This machine has the advantages of stable capacity, good brushing effect, easy operation, easy maintenance and nice appearance.
Sime Auto outside bottle washer Introduce
Semi Auto outside bottle washer manufactured by BY.
The machine is an outside washing device for 5 gallon recycled bottle which is manufactured according to the clients' requirement. After coming into the market, it is well accepted by water equipment industry from home and abroad.
In order to make the performance of the device more stable, electrical components manufactured elaborately by Well-known international brands.
Mechanism of the Machine
1. Framework
Main supporter of the machine consists of stainless steel with beautiful appearance and firm structure. Subsidiary supporter which is joint to the main supporter functions for separating the workaround and supporting.
2-The brush system
The system is based on a whole framework.
3-Water tank
The water tank is made of stainless steel with circumfluence.
Transportation:
Export standard packaging: wooden case
Port: Tianjin port or other assigned port
Made in China page: https://www.made-in-china.com/showroom/0a2cdf6874c120ac/product-detailqwjTOFvuPPrN/China-Semi-Automatic-18-9-L-5-gallon-Water-Bottle-Brusher-Washing-Machine.html