5 Gallon bottle In-Line Rotary surface (Exterior) washing machine
Automatic bottle exterior brush washing machine is designed for In-Line washing & rinsing the reusable 5 gallon bottle by detergent washing and clean water washing for cleaning outside of the bottle to improve the washing filling capping system of the main machine. It provides full mechanical cleaning and washing capability for 5 gallon bottles, utilizing a brush system in combination with sprays. The treatment can be controlled by the individual customer to apply chemical or rinse treatment to meet the need. It is geared by high grade Nylon brushing system for washing the bottle bottom, bottle body, bottle shoulder part, controlled by PLC control system.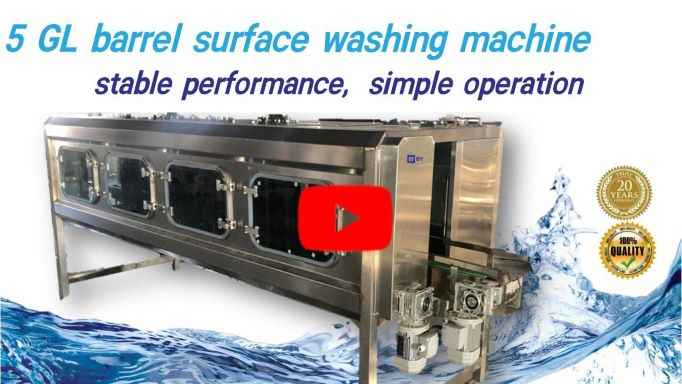 Auto outside bottle washer Introduce
Auto outside bottle washer manufactured by BY machinery. This device is the latest practical product which is developed and manufactured by using the improved assembly line.
The machine is an outside washing device for 5 gallon recycled bottle which is manufactured according to the clients' requirement. After coming into the market, it is well accepted by water equipment industry from home and abroad.
It is controlled and completed by PLC automatic through precise orientation with little manpower and low working intensity. In order to make the performance of the device more stable, electrical components manufactured elaborately by well-known international brands.
Main technical data:
Type No.: BY-YX-2000

Cleaning capacity: 1200~1500 BPH
Barrel: 18.9L (5 Gallons)
Voltage: 380~440Vac
Power: 3.5 kW
Air Consumption: 0.05-0.1 m/min
Air pressure: 0.4 ~ 0.6 Mp
Water consumption: 3T/h
Dimensions (L*W*H): 3900*1200*1500mm
Weight: 750 Kg
Transportation:
Export standard packaging: wooden case
Port: Tianjin port or other assigned port