Your searching product was discontinued to be replaced by upgraded model

BY-TD-2000



BY-BAG-1000 Automatic 5 Gallon / 19 liter Bottle Bagging Machine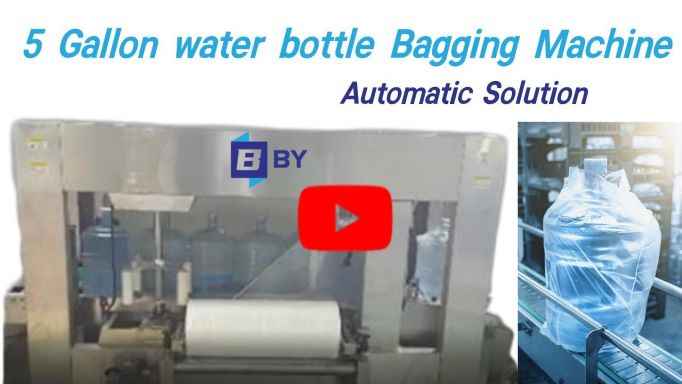 The BY-BAG-1000 bagging machine is designed and patented by BY to bag & seal the big barrel (5 gallon / 19 liter and so on) automatically. Entire roll film encapsulation, effectively keep the external cleaning and not being damaged.
The automatic operation with high success rate of film sealing, firm structure, stable performance, simple operation and easy maintenance make BY-BG-1000 the perfect solution for water plants.
Main technical data:
Voltage: 380~440Vac 50Hz, three phase, five wires
Power consumption: 4 kw
Sealing speed: 2000 BBL/h
Equipment specification (L*W*H): 2680* 950* 1600mm,
conveyor belt level: 550mm from ground level.
Application:
5 gallon barrel or customized barrel (uniform specifications are required).
Applicable film specifications:
Membrane material: PO (Propylene Oxide)
Double side opening of ring film;
The whole roll film length is 700-720mm
Single layer thickness of film 0.006-0.015mm;
The maximum diameter of the whole roll film: Ø 350 mm, no static (refer to electrostatic agent 3%) wrapped tight, winding barrel diameter greater than Ø 80 mm.
Transportation:
Export standard packaging: wooden case
Port: Tianjin port or other assigned port