BY-XGF-450,
Automatic
3 Gallon (5 gallon) Washing Filling And Capping Machine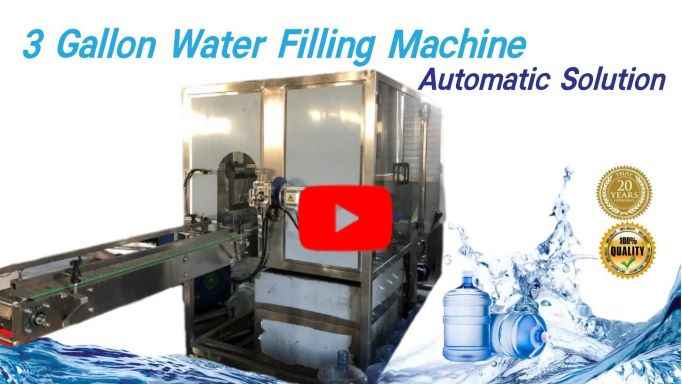 The XGF-450 5 or 3 Gallon Filling System is designed by BY to provide compact solution for 5 or 3 gallons drinking water production. The machine integrates washing, filling and capping functions. It is an ideal equipment for mineral water, packaged drinking water and pure water production.
Stainless steel componentry throughout makes the device corrosion resistant and easy to clean.
For the main electrical components we use high quality well-known international brand such as Mitsubishi and OMRON, and AirTAC products from Taiwan are used for the pneumatic system. The machine designed compact with small foot print with high efficiency, stability, reliable and high level of automation makes it suitable solution for plant with limited space. Only one operator needed, is 1 in all automatic filling equipment.
The XGF-450 equipped with the electronic screw capper stands out because of its operating simplicity and precision.
· The system doesn't require stars, mechanical clutches, or complex lifting mechanisms.
· The closing torque can be set from touch screen; the frequency converter allows to manage it with high precision.
· The handling parts to move the bottle in the machine are reduced to the minimum, so as the change-over downtimes.
Main technical data:
Type No.: BY-XGF-450
Filling capacity: 450 BPH
Barrel: 5 or 3 gallons
Voltage: 380~440Vac, 50Hz
Power: 12 KW,
Air Consumption: 0.6-0.9 m/min
Air pressure: 0.5 ~ 0.8 Mp
Water consumption: 10T/h
Dimensions (L*W*H): 7800*1500*1950 mm
Weight: 1800 Kg
Transportation:
Export standard packaging: wooden case
Port: Tianjin port or other assigned port