Automatic 5 Gallon / 19 liter Bottle Delabeller & Decapper Machine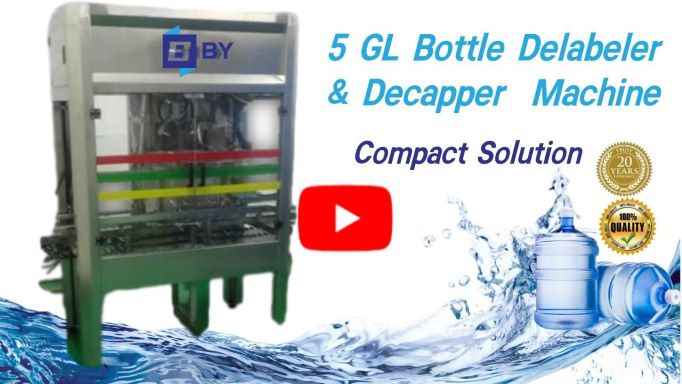 The BY-DLDC-1000 Automatic Delabeller & Decapper machine is designed by BY to remove and discards caps from empty big barrel (3, 5 gallon and so on) and at the same time to separation of sleeve labels on bottles automatically.
The specific design of the machine by combining two functions (Delabelling & Decapping) in an automatic machine leads to a reduction in production time and manpower and ultimately leads to a significant cost reduction. In addition, it reduces the total machine footprint.
The system is equipped with PLC which allows system to service with high speed, accurate positioning, high degree of automation and long service life.
Main technical data:
- Overall dimensions (L*W*H): 700 x800x1700mm,
- Voltage: 220~240Vac 50Hz, single phase, 3 wires,
- Power consumption: 2.5 kw
- Instrument air pressure (Pneumatic input): 0.6 Mpa to 0.8 Mpa.
Operation Conditions:
Feeding Conveyor angle

0-45 degrees

Conveyor belt speed:

≥40 (with driving wheel 21)

≥50 (with driving wheel 25)
Transportation:
Export standard packaging: wooden case
Port: Tianjin port or other assigned port