Tianjin: a national demonstration city for water-saving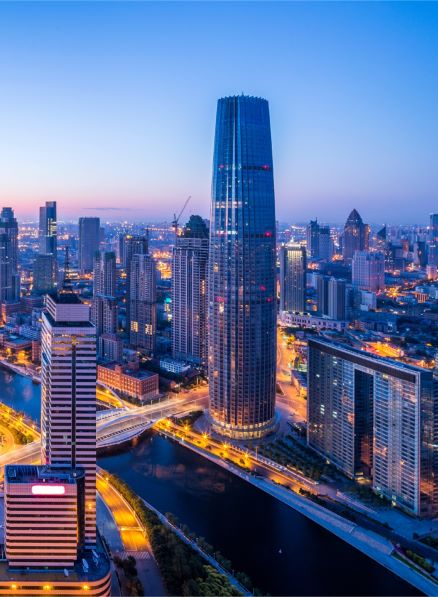 Through years of exploration, Tianjin has become an example of water-saving development for other domestic cities. It was named "water-saving city" by the Ministry of National Housing and Urban-Rural Development (formerly the Ministry of Construction) and was chosen by the Ministry of Water Resources as the first provincial "water-saving society construction pilot" in the South-to-North Water Diversion Project benefited areas of eastern and central routes.
In coordination with its water resources, Tianjin has restructured its industries to push forward water-saving ones, which was particularly effective. It also promoted the work through legislation. There are more than 20 related local rules and governmental regulations for supervision.
Tianjin has eliminated production technologies with high water and energy consumption, low efficiency of water use, and water pollution, by steering the economy.
In the recent years, in contrast with rapid industrial growth, the water consumption has remained unchanged or slightly increased. Tianjin also limited water used for crop planting thanks to its leading irrigation efficiency in the country. Development of related technologies also contributed to the construction of water saving city. A group of national technology projects were settled in Tianjin which, with innovative researches, cracked trans-departmental, -regional and -sectoral topics centering on technologies such as seawater utilization, sewage reclamation, industrial water treatment, membrane materials, and water saving in city life and agriculture.
Binhai New Area has several desalination projects including the Dagang Power Plant, Tianjin Beijiang Power Plant, Dagang Xinquan Seawater Desalination Co Ltd and TEDA Water Technologies Co, producing water sold in bottles, for industrial use,and for people's domestic use. Development on reuse water also achieved some progress. The first period of Jingu Sewage Treatment Plant can handle 550,000 tons of water a day, with A-rated discharge, which can be improved further to reach the standard of four types of surface water. The water flows into the neighboring Jingu Water Recycling Plant, which will be filtrated with ultra-filtrate membrane, desalted with reverse osmosis, discolored in ozone, chlorinated in clean water, and finally sent to Chentangzhuang Thermal Power Plant and other users.
Moreover, Tianjin pays attention to rainfall and flood resource use and has established a flood management system through engineering and non-engineering measures, effectively saving resources for the Luanhe River. (Source: China Daily)